The SCAPPS 2021 Organizing Committee is thrilled to announce some entertainment for this year's conference. The comedy group, Comics Not Otherwise Specified will do a virtual act for conference attendees. Below is a description of this unique comedy group.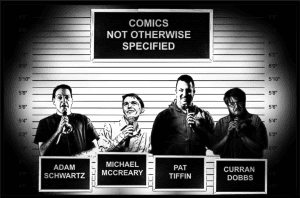 The Comedians of Comics Not Otherwise Specified
Michael McCreary is an autistic comedian, author (Funny, You Don't Look Autistic) and TEDX speaker who has been performing stand-up comedy since age 13. In the past 6 years, he has performed stand-up shows and keynote addresses in every province in Canada – plus the Yukon – and across the United States. He has been featured on The National and on CBC Radio's "Laugh Out Loud"!" Michael gives you permission to laugh at his act "Does This Make My Asperger's Look Big?" https://www.aspiecomic.com/
Curran Dobbs is an up-and-coming autistic comedian from Victoria. His dry delivery has entertained audiences in BC, and at the ANCA World Autism Festival in Edinburgh, Scotland. Curran was a finalist in Vancouver's Yuk Off (2019). He has also appeared in films, including a starring role in the short film Godhead, which has been featured at, among others, the Toronto International Film Festival and the Cannes Film Festival. @Currandobbs
Adam Schwartz is a stand-up comedian and author. Adam is a finalist for Winnipeg's wackiest comedian with a day job, Rumour's comedian with a day job and has appeared in the Winnipeg Comedy Festival. Adam is a regular on the Fringe Festival circuit and his show Aspergers: A Tale of a Social Misfit has sold out in many cities. Adam's books include "I have Aspergers so I'm better than you," and  "Shh… don't tell mom" as well as a children's book "Ana and the Substitute Teacher". https://www.adamschwartzcomedy.com/
Pat Tiffin is a comedian, blogger, and comedy show producer from London Ontario. He spent the last 10 years honing his craft all over southwestern Ontario. In 2012, he won the Funny 1410 "So You Think You're Funny?" Contest. In 2019, Pat was selected as one of the Top 100 for CBC's Next Up. Later that year, Pat helped co-found the "London Laughs" Comedy Festival. When he's not on stage, you can find him on the weekends at Yuk Yuk's London and producing shows under 340 Comedy Collective moniker.