Poster Presentation Information
Our virtual meeting platform, WHOVA, allows for interactive poster sessions. During the conference, attendees can post in a chat box that is associated with your poster and attend a live link that you set up prior to the conference. Read on for more information on how to post your poster, abstract, and set up the live link in advance of the conference.
---
You will receive an email from the SCAPPS Organizing Committee with a link to build your virtual poster in WHOVA, which must be completed by September 9, 2021. The purpose of this information sheet is to guide you through the process needed to create your own virtual poster exhibit. Your poster will be made available to conference attendees from October 15-22 and you will participate in a one-hour live poster session.
Each virtual poster exhibit must include the following components:
Poster name and description
Poster number
A PDF of your poster (see details below)
A PDF of your accepted abstract
A videoconference link (i.e., Zoom) for your live poster exhibit
Presenter contact information
Additional instructions for each component are detailed below. Note that you may revisit your virtual poster profile at any time to make updates prior to the September 9th deadline.
a. Poster name and description
Insert the title of the accepted abstract in the "Name" section followed by project highlights in "Description/Abstract" section of your virtual poster exhibit. Highlights should be three to five bullet points that help the reader to efficiently grasp the nature and scope of your research. Keep each bullet point brief as it is not expected that you capture the entirety of your research approach and conclusions in these highlights (max. 500 characters). Think of this as an 'elevator pitch' of your poster to grab attendees' attention. Feel free to be creative.
b. Poster number
A poster number will have been assigned in your decision letter from the SCAPPS organizing committee. Please place that poster number in the "Number" section of your virtual poster exhibit.
c. Upload Poster and Abstract as PDFs
Upload both your poster and accepted abstract. To upload, select "Upload Document" under the PDF section of your virtual poster session. Add a title and upload a single PDF at a time (2 max). It is recommended that you upload your poster first as it will act as a preview to your live virtual poster exhibit. Please use the following naming convention for the PDFs when uploading into WHOVA: Poster#(insert here the poster number assigned)_Last name SCAPPS2021.pdf. Example: Poster5_Law SCAPPS2021
d. A videoconference link
During the virtual poster session, you will host a live 60-minute videoconference so that interested attendees can drop in to discuss your poster. Throughout the live session, attendees will be able to enter and exit videoconferences, analogous to a poster session at an in-person conference.
In the "Live Presentation" section of your virtual poster session, select "Virtual Booth Showcase" and add a title (e.g., "Live poster session") and a link to a Zoom meeting. Zoom is preferred since it integrates directly into the WHOVA virtual event platform. If you do not have access to an account, you can create a free account in Zoom.
When setting up your Zoom meeting, please ensure the following settings:
Enable a passcode;
Disable the Waiting Room;
Select 'On' for Host and Participant videos;
Un-select 'Mute participants upon entry';
In your overall Zoom account settings, select 'On' for, 'Embed passcode in invite link for one-click join'.
Poster Specifications
Poster sizes are typically defined by the size of the poster boards, since we do not have such restrictions, we recommend adopting a 3 ft x 4 ft (width x length) poster dimension.
When accessing your poster on WHOVA, only the top portion of the poster is first presented, attendees can then scroll to the bottom to see the rest of the poster. In order to maximize readability, we recommend that you place the introduction and methods near the top and have your results and discussion near the bottom of your poster (see figure below). That said, you are able to download or zoom in/out of the poster within your internet browser.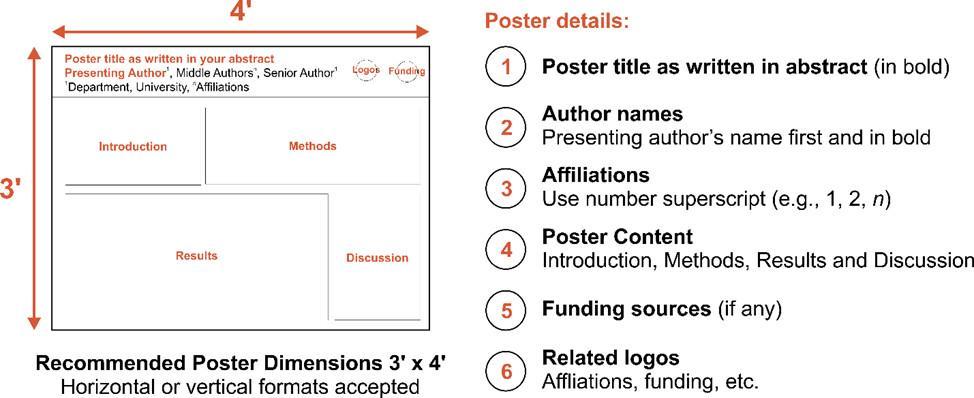 General tips for making your poster
Decide on a logical and simple structure for the poster, so that an attendee can figure out how to read it even if you are not there to explain.
Instead of trying to include every single detail of the research, try to create a poster that provides just enough detail that enables viewers to clearly grasp the key take-home message. You can always include a QR code that links to another area with more details (i.e., website, blog, paper) for attendees who are interested.
Use negative space to your advantage and avoid overcrowding your poster with text and images.
Keep your font large and contrast strong enough so the viewer can easily read text/see relevant images.
Be prepared to deliver short (i.e. 1-2 minutes) summaries of your poster during the live session. Some attendees may come and go during the live session.
Time Slot Information for Poster Presenters
Poster presenters are to set up their own zoom link to be able to interact during their designated poster times. Use the schedule below to know the time slot to set your personalized zoom link time. Note that the schedule is using EDT.
Session 1: Wednesday, October 20, 2021
Odd-numbered posters – 3:00 pm – 3:45 pm EDT

Sport Psychology Posters: 1-19
Exercise Psychology Posters: 63-71
Motor Learning/Control Posters: 39-49

Even-numbered posters – 4:00 pm – 4:45 pm EDT

Sport Psychology Posters: 2-18
Exercise Psychology Posters: 64-72
Motor Learning/Control Posters: 40-50
Session 2: Thursday, October 21, 2021
Odd-numbered posters – 2:00 pm – 2:45 pm EDT

Sport Psychology Posters: 21-37
Exercise Psychology Posters: 73-81
Motor Learning/Control Posters: 51-61

Even-numbered posters – 3:00 pm – 3:45 pm EDT

Sport Psychology Posters: 20-38
Exercise Psychology Posters: 74-82
Motor Learning/Control Posters: 52-60